Brilliant Kalamazoo Photo Locations to Have in Your Family Album
Do people still say "say cheese" these days? Whichever way you get your family to smile for the camera, you'll want to say it at these 15 photo locations and iconic landmarks.
Southwest Michigan has plenty of postcard-worthy views and sights from scenery to experiences that are just as fun to visit as they are stunning to capture.
You may also be interested in:
Kalamazoo Photographer's Guide for Families »
Jeannie Cleaning – Almost Magical Cleaning for a Healthy & Stress-Free Home!
Jeannie Cleaning's caring, home cleaning professionals serve busy families within Kalamazoo County. Having a clean home is an important part of protecting everyone's health and creates a calm, welcoming environment for your family. When you WISH  for more free time, contact Jeannie Cleaning. Call 269-762-2111 for a free estimate!
15 Most Memorable Pics to Take With Your Kids
Scroll through the most Instagram-worthy photo locations in and around Kalamazoo and see how many you already have and what you're missing.
Plus, we need your insight into #1!
15 – Air Zoo Planes
Air Zoo
6151 Portage Rd, Portage, MI 49002
(269) 382-6555
The Air Zoo is a multi-sensory adventure like nothing you've seen. This family-friendly aerospace and science museum is filled with over 100 historic aircraft that are ready for their close up.  #airzoo
4 – Lake Michigan Waves
Lake Michigan
South Haven: 60 Water St, South Haven, MI 49090
Silver Beach: 101 Broad Street St, Joseph, MI 49085
Although not exactly in the immediate Kalamazoo area, visiting one of the plentiful nearby white-sandy beaches and snapping that perfect picture of your child frolicking in the sand is a must-do for every family.  #lakemichigan
13 – Gilmore Car Museum
Gilmore Car Museum
6865 W Hickory Rd, Hickory Corners, MI 49060
(269) 671-5089
This automotive lover's museum is home to nearly 400 vehicles, a restored 1941 Silk City Diner, and a recreated 1930s Shell Station. Before you leave, be sure to snap a photo of their oldest vehicle on exhibit, an 1899 Locomobile Steam Car. #gilmorecarmuseum
12 – Kalamazoo Nature Center
Kalamazoo Nature Center
7000 N Westnedge Ave, Kalamazoo, MI 49009
(269) 381-1574
The Kalamazoo Nature Center is home to miles of trails through woods, wetlands, and prairies. One of our favorite spots in the KNC is their Nature's Playground in the arboretum. Your kids can climb, splash, and play in the mud! They'll love both the water tower and the stream.
Head inside to the visitor's center and you'll find a variety of animals and an interactive indoor forest. #kalamazoonaturecenter
11 – Western Michigan University Sporting Events
Western Michigan University Athletics
Western Michigan University, Kalamazoo, MI 49008
(269) 387-1000
WMU has 15 varsity sports. With everything from football to hockey to gymnastics, there's something for everyone in the family. The kids will love the game-day excitement and cheering the Broncos to victory. Sport your black and gold and score some great game day photos. Go Broncos! #WeWillReign
10 – Downtown Kalamazoo
Downtown Kalamazoo
Kalamazoo, MI 49007
Families flock to the Kalamazoo Mall area to see everything from parades to sidewalk sales. It's home to special events like Art on the Mall and Mixer on the Mall. Some favorite photo spots are Devisser Alley and the colorful Bates Alley, featuring a street mural by Patrick Hershberger.
Be sure to come downtown during the holiday season for trolley rides, hot cocoa, and a visit to the Epic Center to see Santa. #downtownkalamazoo
More photo ops: Kalamazoo Mural Crawl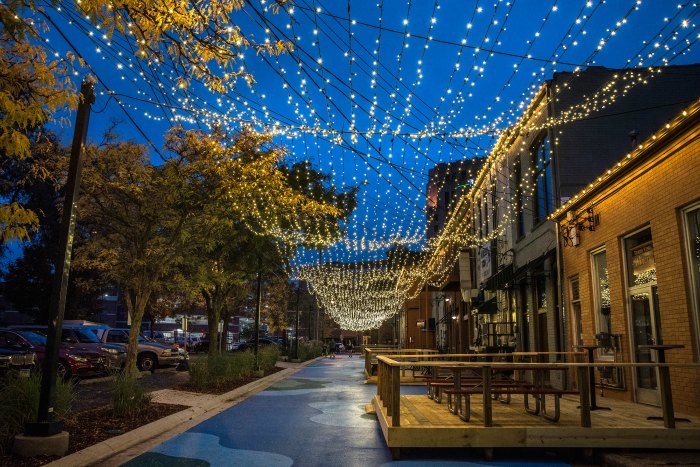 09 – Giant Rocking Chair at Gull Meadow Farms
Gull Meadow Farms
8544 Gull Rd, Richland, MI 49083
(269) 629-4214
Gull Meadow Farms has been offering fun for families for over a decade. All activities aside, the one 'must-do' when visiting is to snap a picture in their famous giant rocking chair. This same chair makes an appearance during the holidays for photos with Santa.
If you're looking for additional oversized furniture, they also offer a massive porch swing in the Back Forty area. #gullmeadowrockingchair
08  – Ramona Park Beach
Ramona Park
8600 S Sprinkle Rd, Portage, MI 49002
Ramona Park is a favorite spot for locals with its small, shallow, life-guard-staffed, kid-friendly beach with panoramic views of Long Lake. #ramonapark
07 –  Celery Flats Historical Area
Celery Flats
7328 Garden Ln, Portage, MI 49002
(269) 329-4522
From senior pictures to engagement pictures, Celery Flats is a local favorite, not only because of its beauty but also for the variety of unique elements. You'd be hard-pressed to visit Celery Flats and not see a photo shoot in action.
Whether you're looking for photos with forest, river, lake, bridges, stones, or an old schoolhouse, Celery Flats has you covered. #celeryflats
06 – Oakland Drive Park Sledding
Oakland Drive Park
7650 Oakland Dr, Portage MI 49024
(269) 329-4522
Oakland Drive Park's large hill is picture-perfect for not only sledding fun but also a winter picture amidst falling snowflakes. When viewed from the top of the hill, it's a fantastic backdrop to document your kid's snowy, wintery fun. #snowintheface
05 – Gene the Pumpkin Man
Gene the Pumpkin Man
22637 M-43, Kalamazoo, MI 49009
Only open from September to November, getting this picture will take a little planning but is so worth it! Gene the Pumpkin Man offers as many beautiful photo ops as pumpkins and squash for sale. Many say meeting Gene the pumpkin man himself is an experience you'll not soon forget. #genethepumpkinman
More photo ops: Pumpkin Patches & Apple Picking
04 – Asylum Lake Preserve
Asylum Lake Preserve
3836 S Drake Rd, Kalamazoo, MI 49008
(269) 760-9023
Asylum Lake Preserve is brimming with natural beauty. 4-legged family members are welcome to join in the photoshoot too, as leashed dogs are welcome on this beautiful 274-acre preserve.  #aslyumlake
03 – Binder Park Zoo Giraffes
Binder Park Zoo
7400 Division Dr, Battle Creek, MI 49014
 (269) 979-1351
Hand feeding giraffes in the Wild Africa section of the park is on the bucket list for any visit to Binder Park Zoo. Kids get a kick out of the giraffes blackish/purple tongue as it stretches out for a green leafy treat (warning – adults love this just as much too!) #BinderParkZoo
More photo ops: Petting Zoos & Regular Zoos
02 – Kalamazoo State Theatre Marquee
Kalamazoo State Theatre
404 S Burdick St, Kalamazoo, MI 49007
(269) 345-6500
One of Kalamazoo's most iconic sites is the famous State Theatre marquee. Arrive at dusk when the sign is lit up to all its glory to get the best picture. #kazoostate
and finally,
01 – Which photo location would you suggest?
Where would you send people to find a great photo location!?
We want to hear from you. What is the quintessential spot in our area of the mitten to capture family photos – comment below!