It's Time to Make Date Night Exciting Again
I don't know who needs to hear this, but your date nights need a glow-up.
I know this because as a working parent to seven-year-old twins who has been married for 13 years, my date nights need a glow-up. Lucky for us, Southwest Michigan is teeming with fun date night opportunities for every mood, interest, and season.
Featured Partner
Home to The Kalamazoo Promise scholarship, KPS continues to improve achievement for all students through collaboration between staff, students, families, and community partners. At Kalamazoo Public Schools, it is our mission to empower all students and to nurture their dreams, so they can contribute to making the world a better place. Our Promise continues!
Important Message: Area businesses are working to implement procedures based on the new safety guidelines. For each of the attractions and events we mention, we include a link to the business website. Please use this link to confirm the details, hours of operation and any requirements guests must follow before visiting. Thank you!
Refresh Your Kalamazoo Date Night with A Bevvy of Local Options
While the traditional dinner-and-a-movie is a perfectly acceptable way to spend date night, it's too easy to use that as a fallback plan when you spontaneously find yourself child-free for an evening.
And it makes sense, because who has the time and energy to scour the internet and quiz friends for new date night recommendations? Spoiler alert: I do.
From sports-loving couples to introverted homebodies, from gamers to outdoor-lovers, you'll find a listing brimming with ideas sure to satisfy any Kalamazoo couple.
Quick, find a sitter, run (don't walk) out the door with your Boo, and make your date nights exciting again with this updated list of 95 Kalamazoo date night ideas.
Dates for Couples Who Love Sports + Recreation
1 | Watch a Kalamazoo Derby Darlins game for a fast-paced and exciting way to spend a Saturday night. It's not just women on skates – this is a full-contact sport.
2 | If you like to play dirty, book riding time at the Zeigler Motorsports Action Park. Three tracks are available for all skill levels to ride motocross or ATV/side-by-sides.
3 | Shout your love from the mountain tops – or close to it – when you ascend indoor rock climbing paths at Climb Kalamazoo.
4 | Join a sports league. From cornhole to wiffle ball, there's something for every couple at Kalamazoo Sport & Social Club.
5 | Attend a lively Kalamazoo Wings Hockey promotion game night, including 90s Night, Wizards, Wands & Wings, The Office Night, Guns N' Hoses, and more.
6 | Show some love for local college athletes and attend a Western Michigan University, Kalamazoo College or Kalamazoo Community College sporting event.
7 | Ricky Bobby fans will appreciate watching a night of racing at Kalamazoo Speedway. After the race, walk over to Victory Lane to congratulate the winning drivers. The pit area is also open so fans can meet the drivers, take pictures, and get autographs.
8 | Catch a baseball game with the Kalamazoo Growlers.
9 | If strapping on shoes with four wheels is how you roll, visit Kalamazoo's Rollerworld during their many theme nights, including 80s Adult Night, Hoverboard Night, and late-night skates.
10 | Enjoy the thrill of downhill skiing and snowboarding at Timber Ridge or Bittersweet Ski Resort. Afterward, grab food and drinks at their restaurant and bar.
11 | If bowling is right up your alley, you'll have a blast at Airway Fun Center, Continental Lanes and Revel and Roll West.
12 | Waltz. Foxtrot. Tango. Salsa. Swing. Jive. Learn to dance in a fun, judgement-free zone at local studios like Wellspring Dance Studios, Mosaic Dance or Sharon's Dance Studio.
13 | Find your flow with a steamy sesh of hot yoga.
14 | Adrenaline junkies will get their hearts pumping at Allegan Event. Choose your adventure among their ropes course, free-fall simulation, vertical drop slide, zip lines, and 16 different climb walls.
15 | Get your daily dose of iron and hit The LYNX GC. The Otsego golf course offers a variety of year-round events such as comedy nights and in the summer 9 and dine (9 holes of golf and dinner).
16 | Hold each other steady (and help each other up) when you try ice skating at Wings West, The Rink Battle Creek, or the outdoor rink at Millennium Park in Portage.
17 | Act like a kid again and check out the new attractions at Airborne Adventure. Test your skills on the Ninja Warrior Course, Ultimate Dodgeball, Warrior Launch, Parkour Blox, Zip Line, and more.
Dates for Couples Who Love the Outdoors
18 | Snowshoe with your sweetie for a winter date night at Kalamazoo Nature Center. Afterward, cuddle up with hot chocolate around a bonfire.
19 | Few things compare to the peaceful and relaxing feeling of floating down a river with the sun on your face. Kalamazoo offers multiple spots for warm weather tubing, kayaking, or canoeing.
20 | Bates Alley is an awesome hangout spot in downtown Kalamazoo that offers seasonal outdoor events. Painted pavement covered with a canopy of white lights makes this an extra special date destination.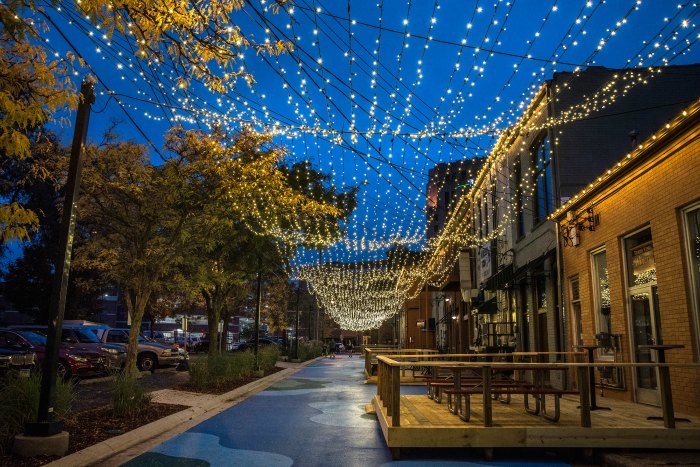 21 | Take a hike – flushed cheeks guaranteed. Enjoy nature's beauty by hiking Southwest Michigan Land Conservancy preserves or bring your rain boots and traverse the watery bridges at West Lake Nature Preserve.
22 | Putt-Putt fans, rejoice: Jungle Joe's added an outdoor adventures mini golf to their fun center.
23 | Get spectacular views from a private hot air balloon ride. Local trips are offered through Michigan Balloon Corporation in Kalamazoo and Balloon Rides over Battle Creek.
24 | Enjoy the most romantic view in Kalamazoo and grab a drink at SkyDeck Kalamazoo, a downtown rooftop bar.
25 | Browse the Kalamazoo Farmers Market and support local vendors and artisans. Don't forget to check out the ambient night market on Thursdays.
26 | Find a free outdoor event hosted by Kalamazoo Parks & Recreation or Portage Parks & Recreation.
27 | Go star and sky gazing at the Kalamazoo Valley Museum Planetarium. Sure, it's indoors – but you'll feel like you're outdoors.
Dates for Couple Who Love Music + Entertainment
28 | Enjoy a diverse cultural experience at the Black Arts + Cultural Center, from the Black Arts Festival to Face Off Theatre Company, film series' and art exhibitions.
29 | At All Ears Theatre, watch actors, musicians and sound effects artists perform on stage before a live audience in the style of radio's golden age. Performances are recorded and broadcast at a later date on WMUK 102.1.
30 | Catch a concert, comedy show, or sing-a-long movie event at the historic Kalamazoo State Theatre.
31 | Find free summer concerts in Kalamazoo County by attending Concerts in the Park and Summertime Live.
32| Miller Auditorium brings a wide variety of Broadway shows to Kalamazoo, as well as comedians, musicians, and date night-worthy special performances.
33 | Support local actors and students by attending a show at the Kalamazoo Civic Theatre, Barn Theatre or Farmers Alley Theatre.
34 | Wings Event Center hosts concerts, comedy shows, sporting events (Ice Racing, anyone?) and other special performances throughout the year.
35 | For a fun twist on a movie date, head to one of three drive-in theatres located within an hour's drive from Kalamazoo: Sunset Drive-In, Five Mile Drive-In, and Capri Drive-In.
36 | Enjoy live music at a nearby brewery or restaurant, including Bell's Brewery, Final Gravity Brewing Co., Old Dog Tavern, or The Thirsty Hound.
37 | Head to the Arcadia Festival site in downtown Kalamazoo for summer festivals and outdoor concerts.
38 | Enjoy 80s music performed by the high-energy and always entertaining Spazmatics the next time they're in District Square.
39 | Support young thespians and attend outstanding student performances from Portage Central Performing Arts, Portage Northern Performing Arts, Kalamazoo Central Theatre Department, and Center Stage Theatre.
Dates for Couples Who Love to Play
40 | Gamers will love virtual reality and PC + Console gaming at Glitch Gaming Lounge and LFG Gaming Bar.
41 | Love PAC-MAN or Donkey Kong? Visit Klassic Arcade in Gobles for some retro gaming fun.
42 | Spend an evening at Henderson Castle socializing with other mystery aficionados and deciphering clues during a Murder Mystery Dinner.
43 | Airway Fun Center is an obvious choice, offering an outdoor ropes course, go-karts, mini-golf, laser tag, an arcade room, bowling, and more.
44 | Rescue a baby unicorn. Find proof of aliens at UFO Diner. Absolve yourself of murder before the police arrive. Pick one of many themes and work together to escape a room at Escapology.
45 | Chill at One Well Brewing and play a plethora of board, card, pinball, and arcade games.
Dates for Couples Who Want to Get Their Creative Juices Flowing
46 | What's that smell? Oh, it's your love. Drop by the studio at Kalamazoo Candle Company and create your own unique candle scent.
47 | Learn new culinary skills to impress your family with a cooking class.
48 | Create delicious candy or work with fondant icing to create a cake masterpiece at Cake N Candy. Or, try a themed cupcake class at Bert's Bakery.
49 | Build a masterpiece with a painted canvas showpiece, including step-by-step instructions at Happy Our Art, Painting with a Twist and Wine and Canvas.
50 | Friday's never looked better. Stroll from shop to shop in downtown Kalamazoo during the monthly Art Hop.
51 | Keep things steaming while you learn the fundaments of glass blowing at Glass Art Kalamazoo or one of the Hot Date Night classes (with childcare!) offered at the KIA.
52 | Make Studio is a BYOB paint and sip creative studio where you can attend a guided session to create a beautiful project to hang in your home.
53 | Are you a succa for plants? Join Wedel's Green Thumb Club and enjoy several gardening-themed events throughout the year.
54 | Make the quick drive to Mattawan for a crafty date night at Vintage Inspired.
55 | Paint Your Pet at The Thirsty Hound. Purchase drinks while painting Fido (they allow you to bring in your own food). Check their calendar for upcoming pet-friendly events.
56 | Art Bayou isn't just for painting your own ceramics. Try your hand at glass fusing, mosaics, and special projects like plaques, pendants (for essential oils), bird feeders, clocks, bowls, handy holders, votives, garden stakes and wind chimes.
Dates for Couples Who Want to Eat, Drink + Be Merry
57 | Latitude 42 has great food, brew, AND special Dine-to-Donate events benefiting local organizations.
58 | For a different kind of craft, support your local micro-breweries.
59 | Head west to Texas Corners Brewing Company for locally sourced eats, plus craft hard ciders & brews. Bonus: they have a great outdoor patio for summer nights.
60 | Bundle up and enjoy a drink and meal in an outdoor igloo, dining pod, or heated patio.
61 | Celebrate a special occasion at Bird Dog in Mattawan.
62 | Make it a date morning with breakfast at one of the best breakfast restaurants around.
63 | Enjoy sweets with your sweetie at Sweetwater's Donut Shop or Peace, Love, and Little Donuts.
64 | When love is brewing, cuddle up and converse at a cozy coffee nook. Rose Gold Coffee Company and Walnut & Park Cafe are great downtown options.
65 | Wine and dine at special food events happening at Lawton Ridge Winery and Cody Kresta Winery.
66 | Cool off with ice cream at any of these area spots to enjoy a sweet treat.
67 | Take advantage of a beautiful summer evening and enjoy dining outdoors. A number of area restaurants have inviting patios or water views.
68 | Grill up your own food at Black Rock Bar & Grill in Kalamazoo or The Grill House in Allegan.
69 | Try the highly-recommended Four Roses Cafe in Plainwell for delicious dinner and dessert.
70 | Enjoy a craft cocktail or dinner at the Stamped Robin restaurant in downtown Kalamazoo or a late lunch at 600 Kitchen & Bar with farm-to-table offerings.
Dates for Couples Who Love Being a Tourist in Their Own Town
71 | Sign up for a Green Door Distilling tour to learn how they turn grains into your favorite spirits. Post-tour flight included.
72 | Discover a craft brewery in West Michigan by joining a West Michigan Beer Tour.
73 | Sample local wines along the Southwest Michigan Wine Trail. Don't forget to check out other local favorites such as Tempo Vino in Kalamazoo and St. Julian in Paw Paw.
74 | Take off on a special date by exploring the Air Zoo.
75 | Visit the zoo. Binder Park Zoo offers a number of adult events including Corks and Conservation, Bonteboktoberfest and Hops with Pops.
76 | View the current exhibit at the Kalamazoo Institute of Arts.
77 | Go float at Zen Dens.
78 | For some peace and quiet, read up on the latest books at an independent bookstore like This is a Bookstore and Kazoo Books.
79 | Whether you're into true crime, urban fiction, or general page-turners, join a book club that suits your fancy at Kalamazoo Public Library or Portage District Library.
79 | Nothing says romance more than a winter horse-drawn trolley ride, available in downtown St. Joseph.
80 | Snuggle close when you go on a spooky outing. Sign up for a Ghosts of Kalamazoo Historic Tour, or experience the haunted history of Henderson Castle.
82 | You don't have to be a car aficionado to appreciate the Gilmore Car Museum. Stroll through the special exhibits and extensive auto collections, then grab a bite to eat in the retro Blue Moon Diner or Heritage Cafe.
83 | Book a couples massage at an area salon or Henderson Castle.
84 | Relax and unwind in the hot tubs at The Oasis.
85 | Sink your toes in the sand and relax in the sun at one of the local beaches. Visit at night and watch the spectacular sunset over Lake Michigan.
86 | Donate blood. While you're helping save lives, you get to lay back, relax, and have a snack without having to lift a finger. If that's not enough to get your blood pumping, I don't know what is!
87 | Ride the Holly Jolly Trolley downtown and shop under the twinkling lights at Christmas.
Dates for Couple Who Buck the Status Quo
88 | Get a matching tattoo or piercing together at Kitten Flower, Art + Soul and Daybreak Tattoo. Call ahead to confirm services offered.
89 | Give back and volunteer at Kalamazoo Loaves & Fishes or other area agencies.
90 | Train for a marathon or other distance run together with Kalamazoo Area Runners.
91 | If you love home decor and improvement, attend the Parade of Homes in June for inspiration for your own abode.
92 | Learn something new together. Sign up for a class from the Kalamazoo Community Education Enrichment.
Dates for Couple Who Just Want to Stay Home
93 | Visit The Cheese Lady and try some cheese samples and purchase your favorites. Add a bottle of wine and artisan jams, dips, and crackers, and create a romantic picnic on your living room floor.
94 | Sign up for a date night box subscription and receive everything you need for a date night in. Choose your frequency or just try it once from Crated with Love or The Adventure Challenge.
95 | And if you made it the end of this list – binge-watch shows on Netflix, you've earned it.
Whether it's a first date or the fiftieth date with your significant other – heck, even if you're taking yourself on a date – Kalamazoo is brimming with date night options for everyone. Are there any we missed that you would add?
---
---